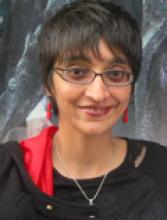 Centre/School/Special Centre:
Centre for the Study of Law and Governance
Email:
pbaxi@mail.jnu.ac.in pratiksha.baxi@gmail.com
Qualifications:
Ph.D. in Sociology, Delhi School of Economics, University of Delhi 
Areas of Interest/Specialization:
Sociology of Law, Courtroom ethnographies, violence, feminist theory
Experience:
Assistant Professor, Centre for the Study of Law and Governance, Jawaharlal Nehru University (since April 2006) 
Awards & Honours:
* Fellowship, Käte Hamburger Kolleg "Recht als Kultur", Bonn, Germany 01 May 2011 – 15 July 2011
* Hermès-postdoctoral fellowship awarded in common by the French Ministry of Foreign Affairs, the Ministry of Research, the Centre National de la Recherche Scientifique and the Foundation Maison des Sciences de I Homme, 01 September 2010 to 30 November 2010.
* Exchange Program and Collaborative Project on "Governance of Family and Gender Relations: Interplay of state and non-state law", University of Zurich, 01 June-30 June 2010.
* British Academy Visiting Fellowship, Diasporic Legalities: The Discourse of "Crimes of Honour" in UK and India, May-July, 2006.
* Visiting Fellowship, Department of Anthropology, Johns Hopkins University 2000-1.
* Junior Research Fellowship of University Grants Commission, 1993-2000.
* Prof. M.S.A. Rao Gold Medal, University of Delhi, 1993 (For methodology paper).
* Shriram Summer Travel Fellowship, Delhi School of Economics, University of Delhi, 1992 
International Collaboration/Consultancy:
Best Peer Reviewed Publications (upto 5):
o Baxi, Pratiksha. 2010. Justice is a Secret: Compromise in Rape Trials. Contributions to Indian Sociology 44, 3 (2010): 207–233. 

o Baxi, Pratiksha. 2007. Adjudicating the Riot: Communal Violence, Crowds and Public Tranquility. Domains (Special Issue), edited by Deepak Mehta, Volume 3: 70-105.

o Baxi, Pratiksha. 2008. Access to Justice and Rule-of-[Good] Law: The Cunning of Judicial Reform in India, Indian Journal of Human Development, 2, 2: 279-302.

o Baxi, Pratiksha. 2008. Feminist Contributions to Sociology of Law: A Review. Economic and Political Weekly, Vol. XLIII No. 43, Pg 79-85, October 25.

o Baxi, Pratiksha. 2006. Habeas Corpus in the Realm of Love: Litigating Marriages of Choice in India. Australian Feminist Law Journal, 25:59-78. 
Recent Peer Reviewed Journals/Books (upto 3):
o Baxi, Pratiksha. 2014. Public Secrets of Law: Rape Trials in India, Delhi: Oxford University Press. 
http://www.oup.co.in/product/academic-general/law/politics/575/public-secrets-law-rape-trials-india/9780198089568
o Baxi, Pratiksha with Uma Chakravarti, Suman Bisht and Janaki Abraham. 2008. Reclaiming Spaces: Gender Politics on a University Campus. In Radhika Coomaraswamy and Nimanthi Perera-Rajasingham [eds] Constellations of Violence: Feminist Interventions in South Asia. Women Unlimited, Delhi. 
o Baxi, Pratiksha, Shirin M. Rai and Shaheen Sardar Ali. 2006. Legacies of Common Law: "Crimes of Honour" in India and Pakistan. Third World Quarterly, Special Issue on "Politics of rights-based development: Feminist Perspectives", Guest Editors: Andrea Cornwall and Maxine Molyneux. Vol. 27, No. 7, 1239-1253.