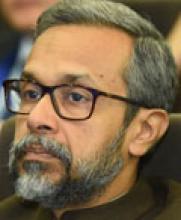 Centre/School/Special Centre:
Centre for Chinese and South East Asian Studies,
School of Language Literature and Culture Studies
Residence:
011-26741453, 09868959998
Email:
pdm@mail.jnu.ac.in, pdm1962@rediffmail.com
Areas of Interest/Specialization:
Chinese Language, Literature, Culture; Folklore & Folk Literature; Chinese History; Intercultural Studies; Art of Translation; Etymological Studies; Studies in Poetry. 
Experience:
Teaching in JNU since 1989. Taught in Delhi University, 2005-2006. 
Taught in Shenzhen University, China as Visiting Professor, 2008-- 2009. Taught in Cheena-Bhavan, Visva-Bharati University in 1989.
Awards & Honours:
Awarded the Special Book Award of China for translations of Chinese literary works, for promoting India-China cultural communications, Beijing, China, August 2014.
Awarded the highest Fellowship of China State Education Commission: China Cultural Research Fellowship. Topic: "India-China Relations in 1930s-1940s." Beijing, China. 15 May 2002-30 June 2002. 
Conferred upon by Shenzhen University, China, in 2009--the Life-Time Alumni Association Membership, and Certificate of Honour for the service rendered as Visiting Professor in Indian Studies at the university. 
[Other awards can be viewed on www.jnu.ac.in/faculty/pdm]  
International Collaboration/Consultancy:
(a) Invited as Visiting Scholar by the Research Institute for Chinese Folk Culture, College of Chinese Literature and Language, Beijing Normal University, Beijing, China, to do research on Chinese Animal Folklore, 2010-2011. 
(b) Deputed as Visiting Professor by the Indian Council for Cultural Relations (ICCR) for the Prestigious Chair in Indian Studies at Shenzhen University, Guangdong, China, 27 October 2008 - 21 January 2009.  
Best Peer Reviewed Publications (upto 5):
"An Etymological Study Between the Indian Sanskrit Concepts and the Chinese Buddhist Terminologies: A Cross-Cultural Interface" (A Chinese-English Bilingual Research Article with an Abstract in Chinese) in (Journal of Chinese Literature), Tamkang University, Taiwan, December 2000, Vol.6, pp.119-132.

Article (in Chinese): "The Forgotten Chapter in Modern Indian History: Subhas Chandra Bose, the Indian liberation movement and his associations with China" in Shenzhen Daxue Yindu Yanjiu Tongxun (Newsletter of Indian Studies, Shenzhen University), Vol.1, No.2, 2009, pp.14-20. 

Article (in Chinese): "Symbolisms in Mahabharata: A Philosophic Discourse" in Shenzhen Daxue Yindu Yanjiu Tongxun (Newsletter of Indian Studies, Shenzhen University), Vol.1, No.2, 2009, pp.10-14. 

Article(in Chinese): "Gazing at the Departing Figure-Recollecting my Association with Prof. Ji Xianlin" in Renmin Ribao (People's Daily), 14 August 2009, p.15. [A commemorative article on the renowned Chinese Indologist] 

Article (in Chinese): "Gazing at the Departing Figure" in Bian Yufang (Ed.), Hua Fan Gongzun: Ji Xianlin he ta de Jiaren Dizi (Equally Esteemed in China and India: Ji Xianlin and his Family Members and Disciples), Guangzhou: Guangdong Educational Publishers, 2010; pp.113-115.
Recent Peer Reviewed Journals/Books (upto 3):
1. Chinese and Tibetan Societies through Folk Literature. New Delhi: Lancers Books, September 1999; pp.415.

2. Cross-Cultural Impressions: Ai Ch'ing, Pablo Neruda and Nicolás Guillén: (In collaboration with Cristina Beatriz del Río Aguirre). An anthology of verses and reminiscences—translated from original Chinese and Spanish into English with annotations; biographic chronologies of the poets and a bibliography for reference. New Delhi: Authorspress, March 2004.

3. Chinese Sounds and Syllables: A Handbook for Indians : A guidebook with Chinese sounds and syllables for all professionals; also acquainting the readers with daily expressions in Chinese, tourist attractions in China, basic knowledge about Chinese history and geography, and the correct methods of reading and writing Chinese names, etc. The best guidebook for transliterating Chinese words into English as well as into seven different Indian languages: Hindi, Bengali, Malayalam, Punjabi, Gujarati, Kannada and Oriya. New Delhi: Lancer Publishers & Distributors, August 2012.