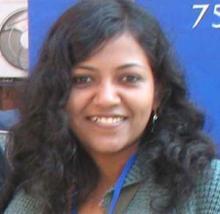 Assistant Professor Concurrent
Centre/School/Special Centre
Special Centre for Nanoscience
Room No
14 (AIRF) & Office (SCNS)
Off. Phone
+91-11-2673 8836 (Telefax); +91-11-2670 4560 (extn 214)
Email
prasadtulika@hotmail.com; prasadtulika@mail.jnu.ac.in
Qualifications
B.Sc. Presidency College, Calcutta University
M.Sc. Presidency College, Calcutta University
Ph.D. 2005/06
Areas of Interest/Specialization
Nanobiotechnology &

Nanomedicine (nano-based: drug delivery, therapy, toxicity and fluorescent bioimaging) for infectious diseases, while maintaining biocompatibility and biodegradability.

Understand the nano-bio interface to develop strategies for probing and modulating biological processes in order to counter therapeutic hurdles and Multi Drug Resistance (MDR) in infectious diseases.
Synthesis of nano-based antimicrobials for infectious diseases and study of their molecular mechanisms of action.

Infectious Disease Biology (

Candida albicans and Mycobacterium tuberculosis).
Microbial Drug Resistance (with reference to lipids and drug efflux pumps in Candida albicans and Mycobacterium tuberculosis) and Pathogenicity.
Experience
1. Assistant Professor (Since Aug, 2008): Jawaharlal Nehru University, New Delhi
Special Centre for Nano Sciences (SCNS) since July, 2015
Advanced Instrumentation Research & Facility (AIRF) since Aug 2008
2. Post Doctoral Experience (2005/06 to 2008)
3. Collaborative work on "Candida drug resistance" at Department of Pharmaceutical Technology and Biochemistry, Technical University of Gdansk, Gdansk, Poland (2006)
4. Collaborative work on "Liquid Chromatography Mass Spectrometric Analyses of Yeast Lipids" at National Institute of Immunology (NII), New Delhi (2005)
5. Collaborative work on "Fluorescence Recovery after Photobleach" at Centre for Cellular and Molecular Biology (CCMB), Hyderabad (2002)
6. Selection at International Level for Practical course on "Heterologous protein expression in yeast" at International Centre for Genetic Engineering and Biotechnology (ICGEB), New Delhi (2001)
7. Indo-German collaborative work on "Candida drug resistance and morphogenesis" between JNU & Heinrich-Heine-Universitatsstr, Dusseldorf, Germany (2000-2008)
8. Indo-US Collaborative work on "Membrane Lipid Asymmetry, Membrane Fluidity and Drug Resistance in Staphylococcus aureus" between JNU and LA Biomedical Research Institute, Harbor-UCLA Medical Center, Torrance, CA, USA (2000-2002)
9. M.Sc. Dissertation on "Ascochyta Blight of Chick Pea" in Calcutta University, Calcutta (1998-99)
Awards & Honours
Best Hall Presentation Award for "Combating multidrug resistance (MDR) in pathogenic fungi, Candida: a nano-based approach" in Young Scientists Conclave, India International Science Festival, 2016 organized by Ministry of Science & Technology and Ministry of Earth Sciences at National Physical Laboratory, New Delhi between 7-11 December, 2016.
Innovative Young Biotechnologist Award for the year 2008 by DBT.
Ranbaxy Science Scholar

for the year 2008 by

Ranbaxy Science Foundation.
NIH Visiting Fellowship at Liver Diseases Branch, NIDDK, NIH, Bethesda, Maryland, Washington DC, USA for the year 2008-09.
International Travel Awards from

CSIR,

DBT, DST and ICMR in 2003, 2008, 2012 and 2014.
Seven Best Speaker Awards in International Conferences and Six Young Scientist Awards between 2006 to 2016.
Ten Best Poster Awards in International Conferences between 2001 to 2014.
Young Scientist Award at International Conference on the Biology of Yeasts and Filamentous Fungi held at National Chemical Laboratory and Agharkar Research Institute, Pune, India between 15-17 February, 2007 and selected for Young Scientist Award Lecture presentation.
Among 8 selected for award of appreciation for "Unexpected link between iron and drug resistance of Candida: iron depletion enhances membrane fluidity and drug diffusion leading to drug susceptible cells" at Joint Bilateral Seminar on "Antimicrobial Drug Resistance And The Development Of New Antibiotics" held at Indian National Science Academy, New Delhi, India organized by INSA and German Academy of Science, Leopoldina, between 22-25 November, 2007.
Research Associate from DBT and CSIR (2005/06 to 2008).
Research Fellowship (2001) from CSIR for Ph.D.
Qualified GATE (1998).
International Student Award of $1000 at ISHAM, 2003 Meeting held at San Antonio, Texas, USA between 25-29 May, 2003.
ASM Student Travel Award of $500 for the 6th American Society for Microbiology Meeting on Candida and Candidiasis held between 13-17 Jan, 2002 at Tampa, Florida, USA.
Presidency College Student Merit Scholarship.
Best Peer Reviewed Publications
Total 65 Publications till 10 September, 2022
Preeti, Sangeeta Kumari, Neelima Mondal, Surinder P. Singh and Tulika Prasad. Synergism of ZnO Quantum Dots (QDs) with antifungal drugs: Potential approach for combination therapy against multidrug resistant Candida albicans. Frontiers in Nanotechnology (2021), 20

May, 3: 624564

.

doi: 10.3389/fnano.2021.624564.

[Citations – 5].
Bhawna Dahiya, Tulika Prasad, Vishwajeet Singh, Anish Khan, Ekta Kamra, Preeti Mor, Aparna Yadav, Krishna B. Gupta and Promod K. Mehta. Diagnosis of Tuberculosis by nanoparticle-based immuno-PCR assay based on mycobacterial MPT64 and CFP-10 detection. Nanomedicine (Lond.)-Future Medicine (2020), 15(26): 2609-2624. doi: 10.2217/nnm-2020-0258.

Epub 2020 Oct 22.

[Impact factor – 6.096; Citation – 19].
Richa Singh, Usha Singh Gaharwar, Surya Prakash Dwivedi, Paulraj Rajamani, Ramaovtar Meena and Tulika Prasad. Recent updates on drug resistance in Mycobacterium tuberculosis. Journal of Applied Microbiology (2020), 128(6): 1547-1567. doi: 10.1111/jam.14478. [Impact Factor – 4.059; Citation – 111].
Kumar A., Dwivedi S. P. and Prasad T. Method validation for simultaneous quantification of Olmesartan and Hydrochlorothiazide in human plasma using LC-MS/MS and its application through bioequivalence study in healthy volunteers. Frontiers in Pharmacology (2019) 10:810 [Impact Factor – 5.988; Citations – 7].
V. S. Radhakrishnan, S. P. Dwivedi, M. H. Siddiqui and T. Prasad. In vitro studies on oxidative stress independent, Ag-nanoparticles induced cell toxicity of Candida albicans, an opportunistic pathogen. International Journal of Nanomedicine (2018), 13: 91-96 [Impact Factor – 7.033; Citation – 43].
V. S. Radhakrishnan, M. K. R. Mudiam, M. Kumar, S. P. Dwivedi, S. P. Singh and T. Prasad. Silver nanoparticle induced alterations in multiple cellular targets, which are critical for drug susceptibilities and pathogenicity in fungal pathogen (Candida albicans). International Journal of Nanomedicine (2018), 13: 2647-2663 [Impact Factor – 7.033; Citation – 77].
I. A. Mir, V. S. Radhakrishnan, K. Rawat, T. Prasad* and H. B. Bohidar*. (Joint Corresponding authors*). Bandgap tunable AgInS based quantum dots for high contrast cell imaging with enhanced photodynamic and antifungal applications. Scientific Reports- Nature (2018), 8(1):9322. [Impact Factor – 4.996; Citation – 56]
N. Singh, B. Dahiya, V. S. Radhakrishnan, T. Prasad* and P. K. Mehta*. (Joint Corresponding authors*). Detection of Mycobacterium tuberculosis purified ESAT-6 (Rv3875) by magnetic beads coupled-gold nanoparticles based immuno-PCR assay. International Journal of Nanomedicine (2018), 13: 8523-8535 [Impact Factor – 7.033; Citation – 17].
V. K. Somani, S. Aggarwal, D. Singh, T. Prasad* and R. Bhatnagar*. (Joint Corresponding authors*). Identification of novel raft marker protein, FlotP in Bacillus anthracis. Frontiers in Microbiology (2016), 7(169): 1-18. [Impact Factor – 6.064; Citation –19].
Recent Peer Reviewed Journals/Books
1. Anam Rais, Itika Varshney, Sunil Kumar, Vimal Kumar and Tulika Prasad (2022). Green Nanotechnology: Applications in Medicine In Innovations in Green Nanoscience and Nanotechnology: Synthesis, Characterization and Applications, 1st Edition Ed. Shrikaant Kulkarni, CRC Press (Taylor and Francis Group), (2022) Chapter 9. ISBN 9781003319153. https://doi.org/10.1201/9781003319153.
2. Anam Rais, Preeti Chand, Megha Malik and Tulika Prasad (2022). Human Microbiota: Role in Cancer Progression and Therapy Efficacy In Microbial crosstalk with immune system, new insights in cancer therapeutics, 1st Edition, Ed. Asmita Das, Academic Press, an imprint of Elsevier, (2022) Chapter 5, pp 145-175. ISBN 9780323995795. https://doi.org/10.1016/B978-0-323-96128-8.00006-7.
3. Preeti, Megha and Tulika Prasad. Metabolomics: A Promising Tool to Study Disease Biomarkers and Host-Pathogen Interactions In Integrated Omics Approaches to Infectious Diseases, Eds. S. Hameed and Z. Fatima, Springer, Singapore (2021) 19 July, Chapter 22, pp 403-423. ISBN 978-981-16-0690-8. https://doi.org/10.1007/978-981-16-0691-5_22.
4. Usha Singh Gaharwar, Akanksha Verma, Richa Singh, Tulika Prasad and Paulraj Rajamani. Health Risks and Environmental Concerns of GM Crop Adoption In Policy Issues in Genetically Modified Crops: A Global Perspective, 1st Edition, Eds. Pardeep Singh, Anwesha Borthakur, Aditya Abha Singh, Ajay Kumar and Kshitij Singh, Elsevier Academic Press (2021) Jan, Chapter 17, pp 371-400. ISBN: 978-0-12-820780-2. [Citations –1].