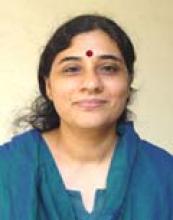 Centre/School/Special Centre:
Centre of Social Medicine and Community Health,
School of Social Sciences
Email:
ramabaru@mail.jnu.ac.in , rama.v.baru@gmail.com
Areas of Interest/Specialization:
Health Policy, Commercialization of Medical Care, Inequalities and Health 
Awards & Honours:
1) Balzan Fellowship, University of London.
2) Shastri Indo-Canadian Faculty Enrichment Award 
Best Peer Reviewed Publications (upto 5):
1. Baru, Rama, Acharya, Arnab, Acharya, Sanghmitra (etal): Inequities in Access to Health Services in India: Caste, Class and Region, Economic & Political Weekly, September 18, 2010 vol. xlv no 38, pp.49-58. 
2. Baru, Rama V. And Sivaramakrishnan Kavita: The Commission on Social Determinants of Health: Mainstreaming social inequalities in public health education in India, The National Medical Journal of India, vol. 22, No.1, 2009, pp: 33-34.
3. Baru, Rama V. etal. : Commentary, Full Meal or Package Deal? Economic and Political Weekly, Vol. 43 No. 24, June 14 - June 20, 2008, pp: 20-22.
4. Baru, Rama V. and Nundy Madhurima: Blurring of Boundaries: Public-Private Partnerships in Health Services in India, Economic and Political Weekly, Vol. XLIII, No.4, Jan 26, 2008, pp: 62-72.
5. Nundy, Madhurima and Baru Rama V. : Approaches to Health Financing: A Review of Country Experiences, Journal of Health and Development, vol. 2, No. 3 & 4 July-December 2006, pp: 37-57. 
Recent Peer Reviewed Journals/Books (upto 3):
1. Ed. Rama Baru (2008): School Health Services in India: the social and economic contexts, Sage Publication, New Delhi.
2. Baru, Rama V. (1998) Private Health Care in India- Social Characteristics and Trends. Sage Publications, New Delhi.