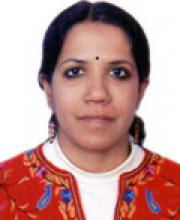 Centre/School/Special Centre:
Centre for Historical Studies,
School of Social Sciences
Email:
ranjeetadutta@mail.jnu.ac.in , ranjeeta.dutta@gmail.com
Areas of Interest/Specialization:
Religion and Society in Medieval and Early Modern South India; Regions, Space and Historical Geography; Political Formations, Issues of Legitimation and Political Culture in Medieval and Early Modern South India; Public History and Notions of Heritage. 
Awards & Honours:
2009-2011. Fellow. Indian Institute of Advanced Studies, Shimla
1994-1997. Senior Research Fellowship in History, University Grants Commission, India
1992-1994. Junior Research Fellow, University Grants Commission, India 
International Collaboration/Consultancy:
Associate Editor, Medieval History Journal, Sage, New Delhi. ISSN 0971 -9458.Online ISSN 0973-0753
2009. Consultant for the project, 'Preparations of Site Management Plan, Ellora Caves, Aurangabad', Cultural Resource Conservation Initiative (For The Preservation and Promotion of Cultural Heritage), New Delhi. April 15th –June 15th. Complete Project Report submitted. 
Best Peer Reviewed Publications (upto 5):
Locating the Self, Community and the Nation: Writing the History of the Srivai??avas of South India, in Sekhar Bandyopadhyay and Aloka Parasher Sen, eds. Religion and Modernity in India, (New Delhi, Oxford University Press, August 2016), pp.84-106. ISBN 9780199467785

Consensus and Control: The Ma?has, Household and Religious Devotion, in Medieval South India, in Kumkum Roy, ed., Looking Within and Looking Without: Exploring Households in the Subcontinent Through Time. (New Delhi, Primus, 2014), pp. 321-47. ISBN 978-93-84082-33-8.

Community, Religion and Pilgrimage: The Growth of Srirangam in the Tamil Region, in Pius Malaikandathil and Yogesh Sharma, ed., Cities in Indian History (New Delhi, Primus, 2014), pp.457-78. ISBN978-93-80607-99-3

Devotion and Dissent in the Biographical Process of a Medieval Saint: Ramanuja in Srivai??ava Tradition and History, in Vijaya Ramaswamy, ed., Devotion and Dissent in Indian Religion (New Delhi, Cambridge University Press, 2014), pp. 74-97. ISBN978-93-82993-19-3.

Politics of Religious Identity: A Muslim Goddess in Srivai??avaism of South India, Studies in History, Volume XIX, Number 2, July-December. (New Delhi. Sage, 2003), Pp.157-84. ISSN-0257-6430; E ISSN-0973-080X.  
Recent Peer Reviewed Journals/Books (upto 3):
From Hagiographies to Biographies: Ramanuja in Tradition and History (New Delhi, Oxford University Press, 2014) ISBN-13: 978-0-19-809229-2/ISBN-10:0-19-809229-6
Negotiating Religion: Perspectives from Indian History (New Delhi, Manohar, 2012). Co-edited with R.P.Bahuguna and Farhat Nasreen, ISBN 978-81-7304-924-8
Pilgrimage as a Religious Process: Some Reflections on the Identities of the Srivai??avas of South India, in Indian Historical Review, Vol.37, No.1, June. (New Delhi, Sage, 2010), pp.17-38. ISSN: 0376-9836, Online ISSN: 0975-5977