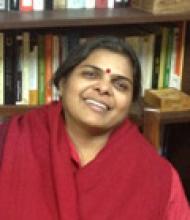 Centre/School/Special Centre:
Centre for Historical Studies,
School of Social Sciences
Email:
rmahalakshmi@mail.jnu.ac.in , mahaarakesh@gmail.com
Qualifications:
Doctor of Philosophy, Centre for Historical Studies, JNU, 2006.
Master of Philosophy, Ancient Indian History, Centre for Historical Studies, JNU, 1995.
Master of Arts, History (with theme specialization in Socio-economic history) from Central University, Hyderabad, 1993. 
Areas of Interest/Specialization:
Evolution of state structures in the early medieval period in south India; Tamil influences in early historical and early medieval Sri Lanka; interrogating gender and patriarchy in early India; growth and transformation of brahmanical religious traditions and institutions in the early medieval period in India; the development of brahmanical and Buddhist art and architecture in South and Southeast Asia; and tribal histories of South Asia, particularly the Brahmanical/ Buddhist-tribal interactions in the pre-modern period.
Experience:
14 years of teaching experience in the Centre for Historical Studies, JNU. 
Awards & Honours:
Prof. Hira Lal Gupta Research Award for outstanding research work [The Making of the Goddess, Penguin, 2011] published by an Indian woman Historian, presented by the Indian History Congress, 74th session, 2013. 
International Collaboration/Consultancy:
Co-Director with Prof. Vyjyanthi Raghavan, centre for Korean Studies, JNU, and Researcher in the International Project on 'India and Korea: A Comparative Study of Colonialism', funded by the AKS, Korea.
Organized a student field trip with 15 students and one staff member to Sri Lanka from 10th – 20th December, 2012, with financial support from the India-Sri Lanka Foundation..
Member of the History and Civics Course Revision Board, Indian Council for Secondary Education since July, 2011. 
Best Peer Reviewed Publications (upto 5):
'Intimately Bound: Woman and Family in early Tamil History, c. 300 BCE – 1300 CE', in Saxena, Ashish, ed., Mapping Marginality and Social Justice, Rawat Publication, Jaipur, 2013.
'Introduction to the Life and Work of Ananda Coomaraswamy', in Coomaraswamy, Ananda, The Dance of Shiva, revised edition with a new introduction, Rupa and Co., Delhi, 2013.
'Benevolent Consort or Dangerous Adversary? The Accommodation of the Goddess in the Hymns of the Tamil Saiva Saint Appar', Studies in History, August 2011, 27: 2, pp. 269-80.
'Political Economy and Society in India: A Historiographical Survey', Asian Research Trends New Series, Toyo Bunko, 2011, No. 6, pp. 23-50.
'Ca?kam Literature as a Social Prism', in BD Chattopadhyaya (ed.), Social History of India in the First Millenium AD, ICPR & Pearson, Delhi, 2009, pp. 29-42. 
Recent Peer Reviewed Journals/Books (upto 3):
The Making of the Goddess: Korravai-Durga in the Tamil Traditions, Penguin India, Delhi, 2011.
The Book of Lakshmi, Penguin Viking, Delhi, 2009.