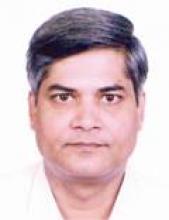 Centre/School/Special Centre:
School of Sanskrit and Indic Studies
Email:
rnjha@mail.jnu.ac.in , rnj12@hotmail.com
Qualifications:
M.A., M.Phil. and Ph.D.in Sanskrit 
Areas of Interest/Specialization:
Advaita Vedanta, Sankhya-Yoga, Navya-nyaya and Philosophy of Science 
Experience:
12 and half years (teaching and research)
International Collaboration/Consultancy:
Working on a Project titled 'Towards an Asian /Continental Poetics: A Study in Inter-Cultural Space with Special Reference to the Works of Han Yong-un & Rabindranath Tagore' funded by Academy of Korean Studies, Korea as one of the Investigators since 01.01.2011 for two years. 
Best Peer Reviewed Publications (upto 5):
A research paper on `Sankara on Sruti as Verbal Testimony` under the book title `Veda as Word` edited by Prof. Shashiprabha Kumar, published by Special Centre for Sanskrit Studies, Jawaharlal Nehru University, New Delhi in association with D. K. Printworld (p) Ltd., New Delhi, 2006. ISBN : 81-246-0376-6

A research paper on `Upanisadic Science of Child Conception`, Proceedings of World Sanskrit Conference (held on 5-9 April, 2001 at Vigyan Bhawan, New Delhi), Volume 5, edited by Prof. Vachaspati Upadhyay and published by Shri Lal Bahadur Shastri Rashtriya Sanskrit Vidyapeeth (Deemed University), New Delhi, 2007.

A research paper on `The Philosophy of Upanisads and Taoism Prevailing in Korean Culture` under the book Title `INDIA and KOREA through the Ages– Historical, Religious and Cultural Perspective`, edited by Vyjayanti Raghvan, Published by Manak Publications Pvt. Ltd., First Editon 2009. ISBN : 978- 81-7831-178-4

A research paper on `The Concept of Apah (Waters) in the Rgveda: Water and Everyday Life` under the book title `Politics of Culture, Identity and Protest in North -east India`, edited by Padam Nepal and Anup Shekhar Chakraborty, published by AUTHERSPRESS, Haus Khas Enclave, New Delhi in 2012. ISBN 978-81-7273- 626-2

A research paper on `Underground Water Exploration in Indian Tradition with Special Reference to Brhatsamhita of Varahamihira` in the Half Yearly Research Journal Mahasvin Issue Seventh Vol. I (ISSN: 2231 – 0452) published by Rashtriya Sanskrit Vidyapitha, Tirupati in 2009. 
Recent Peer Reviewed Journals/Books (upto 3):
A book titled 'A Reader in Indian Philosophy - Samkhyadarsana (With Original Sanskrit Text and Annotated English Translation)' Vidyanidhi Prakashana, Delhi, First Edition, February 2009. ISBN : 978-81-86700- 96-X

A book titled 'A Reader in Indian Philosophy - Samkhyadarsana (Mula Sanskrit Hindi Anuvada evam Tippani Sahita)' Vidyanidhi Prakashana, Delhi, First Edition, February 2008. ISBN : 978-81-86700-82-X