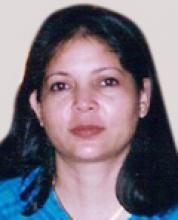 Centre/School/Special Centre:
Special Centre for Molecular Medicine
Qualifications:
Ph.D: Indian Institute of Science, Bangalore, India 
Areas of Interest/Specialization:
Regulation of Epithelial Tight Junctions, Modulation of Tight junctions by Pathogens, Blood-Brain Barrier
Experience:
Post-doctoral Experience: University College London, United Kingdom
Awards & Honours:
Awarded the C.V. Hanumantha Rao Medal, Indian Institute of Science, Bangalore.
Best Peer Reviewed Publications (upto 5):
1). Singh AP, Sharma S, Pagarware K, Siraji RA, Ansari I, Mandal A, Walling P, Aijaz S. (2018). Enteropathogenic E. coli effectors EspF and Map independently disrupt tight junctions through distinct mechanisms involving transcriptional and post-transcriptional regulation. Scientific Reports. 8(1):3719.
2). Singh AP, Aijaz S. (2016). Enteropathogenic E. coli: breaking the intestinal tight junction barrier. F1000Research. 4:231.
3). Singh AP, Aijaz S. (2015). Generation of a MDCK cell line with constitutive expression of the Enteropathogenic E. coli effector protein Map as an in vitro model of pathogenesis. Bioengineered. 6(6): 335-341.
4). Nie M, Aijaz S, Leefa Chong San IV, Balda MS, Matter K. (2009). The Y-box factor ZONAB/DbpA associates with GEF-H1/Lfc and mediates Rho-stimulated transcription. EMBO Reports. 10:1125-1131.
5). Aijaz S, D'Atri F, Citi S, Balda MS, Matter K. (2005). Binding of GEF-H1 to the tight junction-associated adaptor cingulin results in inhibition of Rho signalling and G1/S phase transition. Developmental Cell. 8(5): 777-786. 
Recent Peer Reviewed Journals/Books (upto 3):
Book Chapter:
1). Saima Aijaz, Steven Goodrick, Karl Matter and Maria Balda (2006): 'Tight Junctions' in Encyclopedic Reference of Genomics and Proteomics in Molecular Medicine, Pages 1868-1873; Springer