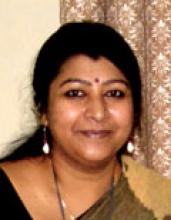 Centre/School/Special Centre:
Centre for Chinese and South East Asian Studies,
School of Language Literature and Culture Studies
Email:
sabareemitra@mail.jnu.ac.in, sabareem@gmail.com
Areas of Interest/Specialization:
Modern and Contemporary Chinese Literature and Culture, Cultural and Political History, Cultural Theory and Criticism, Gender Issues, India-China Cultural Relations 
Experience:
Twenty two years in September 2012 
Best Peer Reviewed Publications (upto 5):
BOOKS
2008 Chinese Women Writers and Gender Discourse (1976-1996), Books Plus, New Delhi.

2005 Literature and Politics in 20th Century China: Issues and Themes, Books Plus, New Delhi.

ARTICLES
2008 "From `Popularization of Culture` to `Popular Culture`: Discourse & Praxis in China", JSL (Journal of School of Languages), Spring 2008, pp. 103-115.

2007 "Dangdai Zhongguo de shehuiwenhua" ("Social Culture in Contemporary China"), Changjiang Xueshu (Yangtze River Academic, a journal of Wuhan University, PRC), Issue no. 03, 2007, pp. 42-47.

2006 "A Brief History of Chinese Huaju: A Sociopolitical Perspective", JSL(Journal of School of Languages), Autumn 2006 (Special Issue on Theatre/Performance), pp. 119-128. 
Recent Peer Reviewed Journals/Books (upto 3):
2011 "Tagore and Bengal`s Social Modernity: Bringing Women to the Cultural Mainstream", in Tan Chung, Wang Bangwei, Amiya Dev and Wei Liming (Ed.) Tagore and China, Sage Publications, New Delhi, 2011, pp. 313-324.

2009 "Activism of Chinese Women Writers During Reform and Globalization", The Asian Scholar (Annual e-Journal of the Asian Scholarship Foundation), Issue No. 5, available atwww.asianscholarship.org/asf/ejourn/index.html.