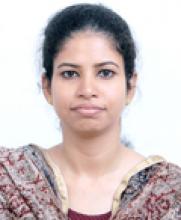 Centre/School/Special Centre:
Centre for West Asian Studies,
School of International Studies
Areas of Interest/Specialization:
West Asian Economy; Globalisation and development issues; Energy security and India's economic relations with West Asia.
Courses Offered: 
     M.Phil (WA 615) West Asian Economies: Issues in Development
     M.Phil Research Methodology
     M.A.(IRAS) Political Economy 
Experience:
Assistant Professor, Gulf Studies Programme, Centre for West Asian Studies, SIS, since November 2015
Assistant Professor in Jamia Millia Islamia, New Delhi from 2008-2015 
International Collaboration/Consultancy:
Member of the 'Seed Community for Energy Transformation' constituted by Friedrich-Ebert-Stiftung (FES) India. (Since October 2016)
Member of the MEA ''Select Group on Gulf and West Asia constituted by Ministry of External Affairs (MEA), Government of India. (April 2014)
Member of the Indian delegation in the second, third and fourth interaction during the Indo-Saudi Dialogue held in New Delhi and Riyadh between (2011-13)
Member of the Indian team for 'India –GCC Strategic Partnership' jointly organized by Gulf Research Council Dubai and Public Diplomacy Division, MEA, New Delhi.(2010) 
Prepared Study Report for ASSOCHAM 
Best Peer Reviewed Publications (upto 5):
Emerging Economic Landscape of Saudi Arabia: Opportunities for India (Monograph), Aakar Books: New Delhi, 2015.

"Renewable Energy in the GCC Countries: Prospect and Challenges" in Kumaraswamy, P.R., Quamar, Md. Muddasir ed., (2016), Contemporary Persian Gulf (New Delhi: K.W. Publishers).

"Role of the Gulf in India's Energy Security" in Ranjet Gupta, Abu Backer Bagader, Talmiz Ahmad and N. Janardhan ed., India and the Gulf What Next? , Cambridge : Gulf Research Centre Publications, 2013

"India-GCC Trade, Investment and Emerging Business Opportunities" in Ranjeet Gupta and Christian Koch ed.,GCC-India Relations, Cambridge: Gulf Research Centre, 2013.

"Price Risk Management in Petroleum Exporting and Importing Asian Countries: A Comparative Study of India and Iran" in R. Abhyankar eds., West Asia and the Region: Defining India's Role, New Delhi: Academic Pub.,2008. 
Recent Peer Reviewed Journals/Books (upto 3):
"Invigorating India's Economic Diplomacy in South Asia", Indian Foreign Affairs Journal, Vol. 10, No. 2, April–June 2015.

"International Community Should Desist from Attempting to Tip the Balance", Indian Foreign Affairs Journal, Vol. 8, No. 1; Apr-Jun 2013.

"India Need to Move from 'Mild' to 'Middle'", Indian Foreign Affairs Journal, Vol. 6, no.2, April-June 2011