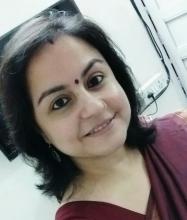 Centre/School/Special Centre:
Centre for Historical Studies,
School of Social Sciences
Email:
shonaleeka@mail.jnu.ac.in , shonaleeka@gmail.com
Areas of Interest/Specialization:
Early Indian History, with special emphasis on classical Sanskrit literature (kāvya), Cultural history, History of ideas, Behavioural history, Gender, Urbanism, Literary theory, Cultural transmission, Regional Studies, History of Early Kashmir.
Awards & Honours:
Jan Gonda Fellowship for Indology and Sanskrit Studies at International Institute of Asian Studies, Leiden University, 2014.
Dinakar Singh Distinguished Lecturership in South Asian Studies in the Department of History, Yale University, 2007-08.
Junior Research Fellowship of the Indian Council of Historical Research, 2003-2004.
Topped Jawaharlal Nehru University in M.A., 2000.
Awarded the following by St. Stephen's College: * Westcott Memorial History Prize 1998 * Sanwa Foundation-St. Stephen's College Scholarship for Academic and Extracurricular Excellence 1998 * Premnath Bhalla Memorial Merit Prize for Academic and Extracurricular Achievement 1997 * Dr. Karni Singh Memorial Merit Scholarship 1996 *  Ranjit Singh Goel Memorial Merit Prize 1996 * Eruch Kapadia Memorial Merit Scholarship 1995.
Awarded the Sanskrit Pratibha Puraskar by Delhi Sanskrit Academy 1993.
International Collaboration/Consultancy:
Best Peer Reviewed Publications (upto 5):
Books:
2018, The Making of Early Kashmir: Landscape and Identity in the Rajatarangini, Oxford University Press, Delhi.
2013, Cultural History of Early South Asia: A Reader (edited volume), Orient BlackSwan, New Delhi.
2010, Imagining the Urban: Sanskrit and the City in Early India, Permanent Black, Delhi, and Seagull Press, New York (2011).
Articles/Chapters:
2015, 'Pataliputra' and 'South Asia' in Craig W. Benjamin, ed., Cambridge World History, vol. 4: A World with States, Empires, and Networks, 1200 BCE-900 CE, Cambridge University Press: Cambridge, pp. 480-536.
2014, 'Seeing' the Past: Text and Questions of History in the Rajatarangini', History and Theory, 53, 2 (May), pp. 194-211.
Recent Peer Reviewed Journals/Books (upto 3):
2015, 'Early Mathura: Sacred Imagination and Diverse Traditions', Indian Historical Review, vol. 42, 1 (June), pp. 1-16.
2015, 'Of Saffron, Snow, and Spirituality: Glimpses of Cultural Geography in the Rajatarangini' in H.P. Ray, ed., Negotiating Cultural Identity: Landscapes in Early Medieval South Asian History, Routledge, Delhi, pp. 139-58.
2013, 'Translation/Transformation: The Rajatarangini's Journey from Medieval Poetry to Modern History', Journal of Contemporary Thought, Special issue on Global South Cultural Dialogue Project: Translation as Conversation, vol. 38 (Winter), pp. 13-22.