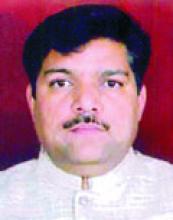 Centre/School/Special Centre:
School of Sanskrit and Indic Studies
Email:
sudhirkumar@mail.jnu.ac.in
Qualifications:
M.A. (Sanskrit), Ph.D, NET, Prabhakar ( Hindi) 
Areas of Interest/Specialization:
Vedic Litrature, Indian Philosophy 
Awards & Honours:
1) "Sanskrit Seva Samman" by Delhi Sanskrit Academy.
2) "Sanskrit Seva Samman" by Haryana Sanskrit Academy.
3) "Sanskrit Seva Samman" Netaji Subhashchander Boss College, Nanded ( Maharashtra).
4) "Yuva Pratibha Samman" by Akhil Bhartiya Vidvat Prashid, Banaras.
5) "Vedic vidvan Samman" by Vanprastha Aashram Jawalapur ( Haridwar).
6) "Ved Vachaspati Samman" by Maharshi Dayanand College of Education Abhor (Punjab). 
Best Peer Reviewed Publications (upto 5):
1) Maharshi Dayanand ki Ishwar Vishyak Adhatyam Prakriya.

2) Maharishi Dayanand ki Ved Bhashya me Agni Devta Suchka Grastha Dharma.

3) Maharishi Dayanandsya Ishwar Mimansa.

4) Yogdarshana me dukhnivratti ke Upaya.

5) Varnavavyastha ki loksithithi.  
Recent Peer Reviewed Journals/Books (upto 3):
1) Yogvidya ka Swadhaya.

2) Pracheen Bhartiya Sanskriti.

3) Dayanand Drashanta Manika