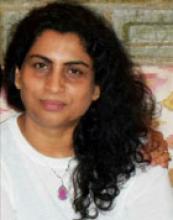 Centre/School/Special Centre:
Centre of Social Medicine and Community Health,
School of Social Sciences
Email:
sunitareddy@mail.jnu.ac.in , sunitareddyjnu@gmail.com
Qualifications:
Ph.D (Anthropology) (specialized in Medical Anthropology)
Areas of Interest/Specialization:
Mother and Child Health, Tourism and Developmental Issues, Medical Tourism, Reproductive Tourism, Surrogacy, Health and Environment, Disaster studies
Experience:
1) Family Health International on mapping study on HIV/AIDS 2000
2) INHP project, Senior Evaluator, CARE India 2002
3) Project Associate at NIPCCD, an Apex body of ICDS 2000-2001
4) Lecturer, Sri. Venkateswara College, Delhi University, 2001-2002
5) Lecturer, Dept. of Sociology, D' School, Delhi University.2002-2003
6) Visiting Faculty, IIT Delhi, Dept. of Humanities and Social Sciences.2003-2004
7) Currently, Asst. Prof. 'Centre of Social Medicine and Community Health', School of Social Sciences, JNU, from March 2004 onwards. Senior Lecturer from 2008 onwards. 
Awards & Honours:
* UGC JRF, SRF- 2003-2008
* IDRC, International Development Research Centre, Canada for attending a conference in Montreal, Canada
* ICSSR travel grant to attend conference in Tokyo, Japan
* MHSP from the CSM&CH and School funds for researching on Medical Tourism.
* UGC grant for Tsunami Research in A & N Islands
* For organizing International Conference, grants were received from ISLF (India Srilanka Foundation), JNU, ICSSR and UN/ISDR (United Nations International Strategy for Disaster Reduction)
* ICSSR and International Collaboration Funds to travel to Netherlands conference at Erasmus University Rotterdam.
* Bronze Medal at national level in High Jump1985
* Gold Medal at regional level in high jump at sub-junior level 1985. 
* University sports championship in 1992. 
International Collaboration/Consultancy:
1. Organized a panel and Chaired a session on "Disasters and Development: An Anthropological Enquiry from Policy to Practice". for The International Union of Anthropological and Ethnological Sciences (IUAES 2009) Kunming, china on July 27-31, 2009.
2. Team member in the AROGYAM (Advances in Research on Globally Accessible Medicine) research network which includes, Jawaharlal Nehru University, University of Edinburg, Heidelberg University and Achutha Menon Centre for Health Sciences Studies and Sree Chitra Tirunal Institute for Medical Sciences and Technology. 
3. Co-Investigator in a collaborative project on 'Assessing and Prioritizing needs for the Occupational Health Infrastructure in India' with University of Minnesota and Jamia Milia Islamia.
Best Peer Reviewed Publications (upto 5):
* Reddy and Qadeer 'Medical Tourism in India: Progress or Predicament?'. Economic and Political Weekly, Vol. XLV no. 20, May 15, 2010.
* "Understanding Disasters from Anthropological Perspective" Indian Emergency Journal, Vol.VI and Issue I of 2011.
* Sunita Reddy and Immaculate Mary. 'Aarogyasri Scheme in Andhra Pradesh, India: Some Critical Reflections' Social Change June 2013, 43: 245-261.
* Reddy and Mary: 'RACHI Scheme in AP: A comprehensive analytical view PPP model' Indian Journal of Public Health, Volume 57, Issue 4, October-December, 2013: 254-259.
* Qadeer and Reddy 'Medical Tourism in India: Perceptions of Physicians in Tertiary care Hospitals' Philosophy, Ethics, and Humanities in Medicine 2013, 8:20. 
Recent Peer Reviewed Journals/Books (upto 3):
"Humanitarian  Aid  and  The  Asian  Tsunami"  Edited  by  Sunita  Reddy: Springer  2018 (Forthcoming).
"Marginalization in Globalization Delhi: Issues of Land, Livelihoods, Health", Sanghamitra Acharya, Sucharita Sen, Milap Punia and Sunita Reddy: Springer. 2017.
'Clash of Waves: Post Tsunami rehabilitation in Andaman and Nicobar Islands' published by Indos New Delhi. ISBN- 978-81-908972-2 (2013)