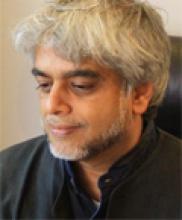 Centre/School/Special Centre:
Centre for English Studies,
School of Language Literature and Culture Studies
Email:
udayakumar@mail.jnu.ac.in , udayaxkumar@gmail.com
Qualifications:
BA (Kerala), MA (Kerala), DPhil (Oxon) 
Areas of Interest/Specialization:
Autobiographical writing; Death and contemporary culture; Literary and cultural theory; Modern Indian writing, especially from Kerala; Cultural histories of the body, Idioms of vernacular social thought; and Modern literary cultures and questions of publicness.
Experience:
Centre for English Studies, JNU (October 2015- )
Department of English, Delhi University (1997-2015)
Centre for Studies in Social Sciences, Calcutta (2005-8)
Indian Institute of Advanced Study (1995-7)
University of Pune (1988-9; 1991-2) 
Awards & Honours:
Senior Fellow, Nehru Memorial Museum and Library (2012-14)
Leverhulme Visiting Professor, Newcastle University (2009-10)
International Collaboration/Consultancy:
Member, Editorial Advisory Board, Routledge Encyclopedia of Modernism (2011- )
Member, Leverhulme Research Network on Postcolonial Translation (2009-11) 
Best Peer Reviewed Publications (upto 5):
Book: 
Writing the First Person: Literature, History and Autobiography in Modern Kerala. Ranikhet: Permanent Black, 2016. http://www.amazon.in/dp/8178244748/
The Joycean Labyrinth: Repetition, Time and Tradition in `Ulysses`. Oxford: Clarendon Press, October 1991, rpt. 2001. http://www.amazon.in/dp/0198112211/ 
Papers: 
'The Strange Homeliness of the Night: Spectral Speech and the Dalit Present in C. Ayyappan`s Writings,' Studies in Humanities and Social Sciences, XVII: 1 and 2 (2010, pub. 2013) pp. 177-91.
'The Primacy of Criticism: Kuttikrishna Marar and the Normative Frames of Realism,' The South Asian Review, special issue on South Asian Realisms and Post-realisms, vol. 32, no. 1 (2012), pp. 153-72.
'Autobiography as a Way of Writing History: Personal Narratives from Kerala and the Inhabitation of Modernity', in History in the Vernacular, eds. Partha Chatterjee and Raziuddin Aquil (Delhi: Permanent Black, 2008), pp. 418-48.
Recent Peer Reviewed Journals/Books (upto 3):
'Ambivalences of Publicity: Transparency and Exposure in K. Ramakrishna Pillai's Writings,' The Public Sphere from Outside the West, eds. V. Sanil and Divya Dwivedi (London: Bloomsbury, 2015), pp. 79-96.
In Malayalam: 'Marxinte Juthar: Adhikaram, Avakasham, Vimochanam' (Marx's Jews: Power, Rights and Freedom) in Marx Vayanakal (Marx - Readings). Calicut: Rasberry Books, 2015, pp. 53-71. 
'Sree Narayana Guru's Idioms of the Spiritual and the Worldly,' in Devotion and Dissent, ed. Vijaya Ramaswamy (Delhi: Foundation Books, 2014), pp. 370-79.