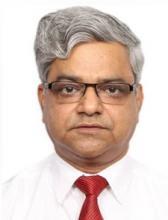 Centre/School/Special Centre
School of Environmental Sciences
Email
umesh@mail.jnu.ac.in ; umeshkulshrestha@gmail.com
Areas of Interest/Specialization
Chemistry and Climate Change, Atmospheric Dust, Air Pollution Transport and Chemical Transformations, Chemistry of Rain and Snow, Reactive Nitrogen, Air Pollution Biomonitoring, Environmental Analytical Chemistry, Bioaerosols, Metal Aerosols, Carbonaceous aerosols.
International Collaboration/Consultancy
Fellow, Indian Geophysical Union
Associate Fellow of Andhra Pradesh Academy of Sciences.
CSIR Young Scientist Award 2004 by Council of Scientific and Industrial Research, New Delhi.
M S Krishnan Gold Medal 2004 by Indian Geophysical Union (IGU).
Thomas Kuhn Honour Pin Award 2002 by The International Union of Air Pollution Prevention & Environmental Protection Associations (IUAPPA) and the International Academy of Sciences.
International START Young Scientist Award 2000 by IGBP-START (System for Analysis, Research and Training for global change) Washington DC, USA.
IICT Gaurav Samman, 2005 Award by Indian Institute of Chemical Technology, Hyderabad.
Expert Reviewer of IPCC AR5 (WG1)
Review Editor of WMO/UNEP Integrated Assessment Report on Black Carbon and Ozone 2011
Expert member and Indian Mentor, Air Pollution India Training Programme organized by Swedish Meteorology and Hydrology Institute, Norrkoping, Sweden.
Member, Academic Advisory Board, The Energy Resources Institute (TERI), New Delhi.
Member of Scientific Advisory Board of Environmental Science Published for Everyman Round the Earth (ESPERE) in the field of Urban Climate and Emissions.
South Asia Coordinator for aerosol and precipitation chemistry measurements for IMI Stockholm University under Atmospheric Brown Cloud project.
Member of Expert committee of EPTRI on Andhra Pradesh Govt GO-111 regarding safeguards of drinking water in Usman Sagar and Himayat Sagar in Hyderabad.
Delivered Key Note Address on Global warming and Climate Change on World Environment Day (June 5, 2007) at Agartala, Tripura, India.
Editorial Board member of several journals
Guest Editor Special Issue on trajectories of Advances in Meteorology.
Best Peer Reviewed Publications (upto 5)
Chemical composition of rain water and influence of airmass trajectories at a rural site in an ecological sensitive area of Western Ghats (India).
J Satyanarayana, Reddy L A K, Kulshrestha M J, Rao R N and U C Kulshrestha. 2010.
J Atmos Chem, 66:101?116 DOI 10.1007/s10874-011-9193-2.

Review of precipitation monitoring studies in India -a search for regional patterns.
U C Kulshrestha, L. Granat, M. Engardt and H. Rodhe. 2005.
Atmospheric Environment, 39, 4419-4435.

Emissions and accumulation of metals in the atmosphere due to crackers & sparkles during Diwali festival in India.
U C Kulshrestha, T Nageswara Rao, S Azhaguvel and Monika J Kulshrestha. 2004.
Atmospheric Environment, 38, 4421-4425.

Chemical characteristics of rain water at an urban site of south-central India.
U C Kulshrestha, Monika J Kulshrestha, R Sekar, G S R Sastry and M Vairamani. 2003.
Atmospheric Environment, 37 (21), 3019-3026.

Estimation of SO4 contribution by dry deposition of SO2 onto the dust particles in India.
Monika J Kulshrestha,U C Kulshrestha, D C Parashar and M Vairamani. 2003.
Atmospheric Environment, 37 (22), 3057-3063.
Recent Peer Reviewed Journals/Books (upto 3)
Urban climate and its effects on biochemical and morphological characteristics of Arjun (Terminalia arjuna) plant in NCR Delhi. 2015.
G P Gupta, B Kumar, S Singh, and U C Kulshrestha.
Chemistry and Ecology, Doi: 10.1080/02757540.2015.1043286.

Importance of atmospheric dust in India: Future scope of research. 2015.
U Kulshrestha and D Sharma.
J. Indian Geophysical Union, 19, 2, 205-209.

Applications of Air Mass Trajectories. 2015.
I A Pérez, F Artuso, M Mahmud, U Kulshrestha, M Luisa Sánchez, and M Ángeles García.
Advances in Meteorology, Doi: 10.1155/2015/284213.