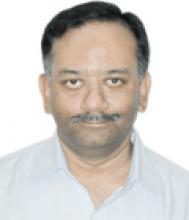 Centre/School/Special Centre:
Centre of Social Medicine and Community Health,
School of Social Sciences
Room No:
212, Second Floor, School of Social Sciences II
Qualifications:
M.B.B.S; MD Radiotherapy; MPH
Areas of Interest/Specialization:
Interface between poverty, food security and health 
Experience:
Worked as a public health physician in working class areas of Delhi for 12 years between 1997 and 2009. Have extensive experience of working with trade unions, youth and women's organizations on health issues of the underprivileged.
Worked as a consultant with National Health Systems Resource Centre. 
Awards & Honours:
Have been a recipient of several national and international awards in painting and sketching including the Soviet Land Nehru Award and the Shankar's International Medal for eight years in a row. 
Best Peer Reviewed Publications (upto 5):
Vikas Bajpai. 'Hunger and Food Insecurity: Structural Causes and their Remedies. AJRSH (Asian Journal of Research in Social Sciences and Humanities), May 2013; Vol. 3 (5): 303–381.
Vikas Bajpai, Anoop Saraya. "Food Security Bill and the Failings of the Debate around it", Indian Journal of Public Health, 2011; Vol. 55 (4): 289-292.
Vikas Bajpai, Biraj Swain. The State of Food Security Report 2012 and the Enigma of Achieving Millennium Development Goals, Global Journal of Medicine and Public Health, July 2013, Vol. 2(3).
Vikas Bajpai, "The Challenges Confronting Public Hospitals in India, Their Origins, and Possible Solutions," Advances in Public Health, Vol. 2014, Article ID 898502, 27 pages, 2014. doi:10.1155/2014/898502.
Vikas Bajpai. Rise of Clinical Trials Industry in India: An Analysis. ISRN Public Health, Volume 2013, Article ID 167059, 17 pages, http://dx.doi.org/10.1155/2013/167059. 
Recent Peer Reviewed Journals/Books (upto 3):
Books:
Vikas Bajpai and Anoop Saraya (2018): 'Food Security in India: Myth and Reality', Aakar Books, Delhi, March: pages 440.
Vikas Bajpai and Anoop Saraya (2018): 'Health Beyond Medicine – Reflections on Politics and Sociology of Health in India', Aakar Books, Delhi, March, pages 300.                                                                          
Vikas Bajpai et.al. 'Peasants Battle Cry for Land in Punjab: An Investigation into Police and Landlord Repression of Land Struggle by Dalit Peasants in Villages of Sangrur District of Indian Punjab.' EPW, Vol. 51 (25), 18 Jun, 2016.
Vikas Bajpai. 'National Health Policy, 2017: Revealing Public Health Chicanery.' Economic and Political Weekly, 2018; Vol. 53 (28): 31-35.
Vikas Bajpai, Namrata Singh, Hardik Sardana, Sanjana Khanna, Beth Vettiyil, Anoop Saraya. Errors of inclusion and exclusion in income-based provisioning of public healthcare: The problems associated with below poverty lines cards. The National Medical Journal of India, 2017; Vol. 30 (6): 290 – 293.