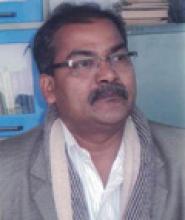 Centre/School/Special Centre:
Centre for the Study of Social Exclusion and Inclusive Policy,
School of Social Sciences
Email:
ycrao@mail.jnu.ac.in , cryagati@gmail.com
Areas of Interest/Specialization:
Dalit Histories and Politics; Discrimination and Exclusion; History of Education, and Affirmative Action  
Experience:
15 (fifteen) years of Research and Teaching 
Awards & Honours:
Visiting Professor, School of Humanities and Social Sciences, Jacobs University, Bremen, Germany (2010).
Member Secretary, Indian Council of Historical Research, New Delhi (2008).
Andhra Pradesh Dalita Udyama Charitra, (History of Dalit Movement in Andhra Pradesh), (Telugu), (Hyderabad: Hyderabad Book Trust, 2007), [This was originally doctoral dissertation submitted to JNU]. This book won the Kendra Sahitya Academy Award in the Best Subject Translation category: for details http://www.hinduonnet.com/2010/02/27/stories/2010022754300400.htm; http://dalitskerala.wordpress.com/2010/03/01/book-on-dalit-movement-wins-sahitya-akademy-translation-prize-2009/"
Visiting Fellow (Charles Wallace India Trust) in Contemporary History and Politics at the Centre for South Asian Studies and the Institute for Advanced Studies in the Humanities, the University of Edinburgh, Scotland (2001/2001).  
International Collaboration/Consultancy:
Best Peer Reviewed Publications (upto 5):
* Dalits' Struggle for Identity: Andhra and Hyderabad, 1900–1950, (New Delhi, 2003), [ISBN: 8173915733, 9788173915734]. 

* Educating the Nation: Documents on the Discourse of National Education in India, 1880–1920, Co-edited with S. Bhattacharya et al., (New Delhi, 2003), [ISBN: 8173915849, 9788173915840].

* Writing Dalit History and Other Essays, (New Delhi, 2007), [ISBN: 8173918805, 9788173918803].

* Dividing Dalits: Writings on Sub-Categorization of Scheduled Castes in India, (Edited), (New Delhi, / Jaipur, 2009), [ISBN: 8131602540, 9788131602546].

* Exclusion and Discrimination: Concepts, Perspectives and Challenges (Co-Edited), (New Delhi, 2010), [ISBN: 9788184572247, 8184572247]. 
Recent Peer Reviewed Journals/Books (upto 3):
* "Labour Education in Madras Presidency: Late 19th and Early 20th Century Andhra", South India Journal of Social Sciences, Vol. VI, No.2, (December 2008), [ISSN: 0972-8945]. 

* "The 'Self' and the 'Other': Towards a Dalit Identity", Human Rights Global Focus, (A research quarterly published by the International Human Rights Foundation), Vol. 3, No.1, (March 2006).

* "Neo-reservation Movement in Contemporary India: A Case Study of Andhra Dalits", Contemporary India, Vol. 4, No.3, (July-September 2005). (Quarterly Journal published by Nehru Memorial Museum and Library, New Delhi).