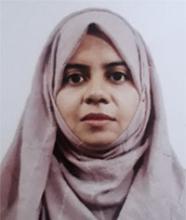 Centre/School/Special Centre:
Centre of Arabic and African studies,
School of Language Literature and Culture Studies
Email:
zarnigar@mail.jnu.ac.in ; nigar.zar@gmail.com
Qualifications:
Ph.D. (Arabic) A.M.U, Aligarh, 2012.
M.A. (Arabic) A.M.U. Aligarh, 2006.
Fazilat  Jamea Tus Salehat, Rampur, 2003.
Almiat Jamea Tus Salehat, Rampur, 2001.
Areas of Interest/Specialization:
Classical Arabic Prose & Poetry
Modern Arabic Prose
Advance Arabic Grammar
Experience:
Assistant Professor in the Center of Arabic and African Studies, SLL&CS, JNU from 22/08/2019.

UGC Post Doctoral Fellow for Women in Department of Arabic, DU.
Guest Faculty at Centre for study of Comparative Religions & Civilizations, Jamia Millia Islamia, New Delhi.
Guest Faculty in Department of Arabic & Persian, Allahabad University.
International Collaboration/Consultancy:
Best Peer Reviewed Publications (upto 5):
 "

هندوستان ميرى نظر ميں

 

 (India as I Saw It)

" (translated from Arabic to Urdu), Rampur Raza Library in 2014, ISBN-13: 978-9382949145.
"Ethos of Indian Culture in the Travelogue of Anees Mansoor" in Journal Attilmez , March 2019, ISSN 2394- 6628.
"Mufradat el Quran-Dirasah Tahleeliyah" (translation from Urdu to Arabic) in Majalla tul Hind, April-June 2019, ISSN 2321- 7928
"Hamda bint Ziyad Almuaddab: Khansa el Maghreb" in Journal Attilmez , July 2015, ISSN 2394- 6628. 
Harakatu Talif wat Tarjimah fil Lughat el Arabiyah fil Andalus ' in "Albaas-el Islami",  December, 2014, ISSN 2347- 2456.
Recent Peer Reviewed Journals/Books (upto 3):
"Mahatma Gandhi in Arabic Travelogues" in Aaj Kal Monthly Urdu Journal, October, 2019.
''Ek Arab Khatoon ka Safarnaama e Hind'' in Urdu Duniya, NCPUL, October 2017.