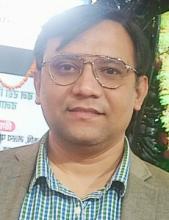 Centre/School/Special Centre
Atal Bihari Vajpayee School of Management and Entrepreneurship
Room No
11, JNIAS Building
Email
aparahant@mail.jnu.ac.in, arvindarahant@gmail.com
Qualifications
M.B.A (Marketing)
M.Com (Accounting & Auditing)
Ph.d (Marketing)
Areas of Interest/Specialization
Micro finance, Self Help Group (SHGs), PMFBY, Kishan Credit Card (KCC), Organic Farming,Value Chain finance, Livelihood Encashment, Grassroots Level innovation, Agripreneurship, Agri-Rural enterprise development, Farm enterprise.
Awards & Honours
Awarded Research Project by Department of Science & Technology, Ministry of Science and Technology, New Delhi on "To study the Progress, Impact and Challenges faced by project beneficiaries of Device Development Programme (DDP) in Deploying Innovative Solutions and way forward",2022 as Co-Project Director.
Awarded Minor Research Project by ICSSR, Ministry of Human Resource Development,New Delhi on "The Role Of Agri- Clinics and Agri-Bussiness Centers for Creating Agri-Preneurship in South Gujarat", March,2022.
Awarded Major Research Project by MGNCRE, Dept. of Higher Education, GOI, Hyderabad on "Impact Assessment of Start-up Village Entrepreneurship Programme in Gujarat & Haryana" 2021 as Project Director.
Awarded Major Research Project by MGNCRE, Dept. Of Higher Education, GOI, Hyderabad on "To study on School Education in Aspirational Districts with an aim to improve the teaching quality during Covid /Post Covid Scenario in Rural School" as Co-Project Director.
Three Plan Project Handled as a Project Director at Navsari Agricultural University, Navsari, Gujarat.
Six Plan Project Handled as a Co-Project Director at Navsari Agricultural University, Navsari, Gujarat.
The award of Excellence in UGC-HRDC Jodhpur's 28 day's orientations Programme on "Role of Education and Communication in Modern India"
International Collaboration/Consultancy
Consultancy at Vanil Udyog (Gujarat State Forest Development Corporation Ltd) for Forest Produce.
Consultancy to Various NGOs on FPO/Forest Produce/Value Addition/Agri-Rural Enterprise Development/SHGs/Micro finance.
Member of Advisory Board in the International journal,IJABEH, 2021.
Best Peer Reviewed Publications
Arahant A, "An Economics of Crop Insurance for Notified Crops in Tribal Areas of Gujarat (India)" International Journal of Agricultural Sciences ISSN: 2367-9026, January, 2022. (NASS 4.73)
Incidence and Determinants of Indebtedness of Agricultural Households in Gujarat,Economic Affairs,June 2020 Vol 65,No:-02, Page:-01-06 ISSN No. : 04242513.
An Economic Impact of Kishan Credit Card (KCC) Scheme in Tribal Area of Gujarat,International Journal of Latest Technology in Engineering, Management & Applied Science,July 2019 Vol V, Issue XII, 2278-2540.

A Study on the Awareness of Farmers about Organic Farming and Marketing of Organic Farm Produce in the Dang District of Gujarat, Emerging Trends in Agribusiness Management,February 2018, ISBN-978-9385629-53-2

Farmers' Own Marketing System: A case study of Vegetable cultivating farmers in South Gujarat,International journal of commerce and business management,October, (2014) Vol 7, Issue 2 0974-2646 Page No-406-408.
Livelihood enhancement through value addition and collective marketing of "Safed Musli" (White gold) - A case of Dang district of Gujarat, International Journal of Commerce and Business Management, April (2015), Vol 8, Issue 1, 0974-2646 Page No-135-138.
Recent Peer Reviewed Journals/Books