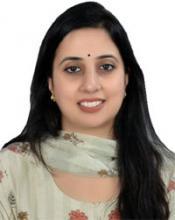 Centre/School/Special Centre
Atal Bihari Vajpayee School of Management and Entrepreneurship
Email
sakshisharma@mail.jnu.ac.in, sakshi2085@gmail.com
Qualifications
Awarded PhD in Finance from Faculty of Management Studies(FMS), University of Delhi.
Topic of PhD: Market Valuation, Risk Assessment, Profitability and Efficiency of Indian Banks and their Challenges under Basel norms: An Empirical Study Under the supervision of Prof. Pankaj Sinha
MBA (Finance & HR) from Himachal Pradesh University Campus, Institute of Management Studies, Shimla
UGC NET (JRF) in June 2010
BSc (Hons.) from Panjab University Campus, Chandigarh
Areas of Interest/Specialization
Experience
A proactive and result oriented professional with 8 years experience in teaching and research, with highly regarded education institutes in India involved in imparting education to undergraduate and post graduate students.
Assistant Professor, Atal Bihari Vajpayee School of Management and Entrepreneurship, Jawaharlal Nehru University, (November 2019 to present)
Assistant Professor (Finance), Shaheed Bhagat Singh College, University of Delhi (August,2016 to November,2019)
Assistant Professor, Shaheed Sukhdev College of Business Studies, University of Delhi. (May,2016 to August, 2016)
Junior and Senior Research Fellow: Faculty of Management Studies, University of Delhi (June 2012-June 2016)
State Bank of India (Selected in 2010 P.O batch) (March 2011 – June 2012) Designation: Probationary Officer.
International Collaboration/Consultancy
Best Peer Reviewed Publications
Market valuation and Risk Assessment of Indian Banks using Black-Scholes-Merton Model. Published in "Finance India"; March 2016 (Scopus, ABDC List of Journals)
Determinants of bank profits and its persistence in Indian Banks: Study under Dynamic Panel Data framework :Published in "International Journal of System Assurance Engineering and management" (Springer Publication), October , 2015(Scopus, ABDC List of Journals)
Operational Risk: Impact assessment of the Revised Standardised Approach on Indian Banks (Scopus, ABDC List of Journals)
Dynamics of Competition in the Indian banking Industry: Published in Economic and Political Weekly (EPW), March 2018(Scopus, ABDC list of Journals)
Priority Sector lending and Situation of Agriculture Credit In India: Published in "Agriculture Situation in India": July 2015 (Government of India, Ministry of Statistics Journal).
P. Sinha and S. Sharma, "Derivative use and its impact on Systematic Risk of Indian Banks: Evidence using Tobit model", MPRA Paper 72251, 2016,MPRA Germany [online] Available: https://mpra.ub.uni-muenchen.de/72251/1/MPRA_paper_72251.pdf.
Malik, K., Sharma, S., & Kaur, M. (2020). COVID-19 and the Indian Private Equity Industry: Time to Use the Dry Powder. Vision, 24(3), 255-259.(ABDC listed,Scopus)
Malik, K., Sharma, S., & Kaur, M. (2021). Measuring contagion during COVID-19 through volatility spillovers of BRIC countries using diagonal BEKK approach. Journal of Economic Studies.(ABDC listed, Scopus)
Sharma, Sakshi, Kunjana Malik, Manmeet Kaur, and Neha Saini. "Mapping research in the field of private equity: a bibliometric analysis." Management Review Quarterly (2021): 1-29. (ABDC listed,Scopus)
A note on Boardroom Challenge 2020, Board Effectiveness and Corporate Stewardship during COVID 19, Vision (ABDC listed, Scopus)
Comovement of Fear Index, Stock Returns, Brent Oil Prices in BRIC countries: The Case of Covid 19 (accepted for publication) Indian Economic Journal, (ABDC listed, Scopus)
Dynamic Linkages of Energy Commodities with Bullion and Metal market: Evidence of Portfolio Hedging (Accepted for publication in American Business Review, "Category A", ABDC listed, Scopus)
Saini, N., Malik, K., & Sharma, S. (2023). Transformation of Supply Chain Management to Green Supply Chain Management: Certain Investigations for Research and Applications. Cleaner Materials, 7, 100172.(Scopus)
Malik, K., & Sharma, S. (2023). The impact of private equity investment and renewable energy on environmental degradation: evidence from BRICS countries. International Journal of Energy Sector Management. (Scopus)
Recent Peer Reviewed Journals/Books