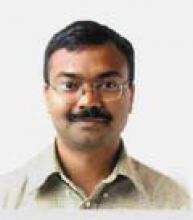 Centre/School/Special Centre
School of Life Sciences
Email
sgourinath@mail.jnu.ac.in
Qualifications
1999 Ph.D. Biophysics, Crystallography, All India Institute of Medical Sciences, New Delhi, India
1995 M.Sc. BioTechnology University of Pune, Pune, India
1992 B.Sc. (Tech), Chemical Technology Loyola Academy, Osmania University, Hyderabad, India
Areas of Interest/Specialization
Structural and Functional studies of crucial pathway enzymes / proteins from E. histolytica & H. pylori
i) Cysteine Biosynthetic pathway, sulfur metabolism in E. histolytica
ii) Crucial signaling and cytoskeletal proteins involved in Phagocytic cup formation in E. histolytica
iii) Replication initiation proteins from H. pylori.
Experience

* July 2015 – present- professor, School of life Sciences, Jawaharlal Nehru University, New Delhi-110067, India.
* 2016 – Guest faculty, Department of Biotechnology, South Asian University, New Delhi
* 2012-July 2015. Associate professor, School of life Sciences, Jawaharlal Nehru University, New Delhi-110067, India.
* 2003- 2012. Assistant Professor, School of life Sciences, Jawaharlal Nehru University
Awards & Honours
* Awarded National Bioscience Award for Career Development 2013 (announced in May 2014) by Department of Biotechnology, Government of India
* Indo-US science and Technology Forum fellowship for 2010, Visited Prof. Niko Gregorif, HHMI, Brandeis University
* Innovative Young Biotechnologist Award for 2006 (IYBA-2006) by Department of Biotechnology, Ministry of Science and Technology, Govt of India.
* Awarded DAAD (German academic exchange service) fellowship for short term, 1998.
* 1996. Qualified for the JRF/NET Fellowship awarded by the Council for Scientific and Industrial Research, Government of India.
* 1996. Qualified the Graduate Aptitude Test in Engineering (percentile score 95.43).
* 1993-1995. Department of Biotechnology, Ministry of Science & Technology, Government of India fellowship for MSc Biotechnology 1993-1995
* 1987-1989. Awarded the Telugu Vignana Parithoshikam (Andhra Pradesh state merit scholarship) by State Govt. Andhra Pradesh.
* 1987. Awarded the National merit scholarship by Govt. of India.
Membership of Scientific Organizations
Elected Fellow of Indian National Science Academy - 2019
Elected to GRC-2016
Elected Fellow of Telengana Academy of Sciences - 2016
Elected Fellow of AP Academy of Sciences - 2016
International Collaboration/Consultancy
Sponsoring Agency : Department of BioTechnology (Indo-German grant)
Duration: 2010 - 2013
Collaborator: Prof. Ch. Betzel
University of Hamburg Institute of Biochemistry and Molecular Biology
Laboratory for Structural Biology of Infection and Inflammation c/o DESY, Build. 22a Notkestr. 85 22603 Hamburg Germany
Best Peer Reviewed Publications
1. S Dharavath, I Raj, S Gourinath (2017) Structure-based mutational studies of O-Acetylserine Sulfhydrylase reveal the reason for the loss of cysteine synthase complex formation in Brucella abortus. Biochemical J. BCJ20161062

2. Preeti Pandeya,b, Khaza Faisal Tariquea, Mohit Mazumdera, Syed Arif Abdul Rehmana, Nilima kumarib and S. Gourinath. (2016) Structural insight into ß-Clamp binding site in DNA Ligase of Helicobacter pylori. Scientific Reports. 6:31181

3. Sanjeev Kumar, Saima Aslam, Mohit Mazumder, Pradeep Dahiya, Aruna Murmu, Babu A. Manjasetty, Rana Zaidi, Alok Bhattacharya and S. Gourinath (2014) Crystal Structure of Calcium Binding Protein-5 from Entamoeba histolytica and its involvement in initiation of phagocytosis of human erythrocytes. PLoS Pathogens. 10(12):e1004532.

4. Singh RK, Raj I, Pujari R, Gourinath S. (2014) Crystal Structures and Kinetics of Type III 3-phosphoglycerate dehydrogenase reveal Catalysis by Lysine. FEBS J. doi: 10.1111/febs.13091.

5. Kumar N, Somlata, Mazumder M, Dutta P, Maiti S, and Gourinath S (2014). EhCoactosin stabilizes actin filaments in the protist parasite Entamoeba histolytica. PLoS Pathogens. 10(9):e1004362.
Recent Peer Reviewed Journals/Books
1. Book Chapter in the book Ameobiasis: SPRINGER Publishers edited by Tomo Nozaki and Alok Bhattacharya. (2015)
Structural Biology of de novo Cysteine Biosynthetic Pathway Enzymes
Isha Raj, Sudhir Kumar, Mohit Mazumder, S. Gourinath

2. Rehman, S. A. A., Verma, A., Mazumder, M., Dhar, S. K., Gourinath, S., (2013) Crystal structure and mode of helicase binding of the C-terminal domain of primase from Helicobacter pylori. J. Bacteriology, 195(12):2826-38.

3. Sudhir Kumar, Isha Raj, Isha Nagpal, N. Subbarao and S. Gourinath (2011). Structural and biochemical studies of Serine Acetyltransferase reveal why the parasite Entamoeba histolytica cannot form Cysteine Synthase complex. J. Biol. Chem. 286 (14), 12533-41.