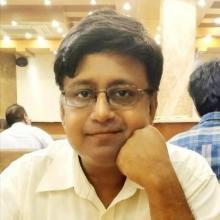 Centre/School/Special Centre
Special Centre for Molecular Medicine
Qualifications
Postdoctoral Training (Immunology): The Cleveland Clinic Ohio, USA
Doctoral (Biotechnoloy): Jadavpur University Kolkata, India
Masters' (Microbiology): M.S. University Baroda, India
Areas of Interest/Specialization
Early host-microbe interactions, Biofilm quorum signaling, Innate immunity, Healthcare Associated Infections, Antimicrobial Resistance, Mass Spectrometry based Metabolomics.
Experience
2008 - present ; Assistant Professor, Special Centre for Molecular Medicine, Jawaharlal Nehru University, New Delhi, India
2009-2012 - Faculty-In-Charge, Mass Spectrometry Laboratory, Advanced Instrumentation Facility, Jawaharlal Nehru University, New Delhi, India
2003-2008 (Feb.) - Faculty Scientist, Indian Institute of Technology, Kharagpur, India
1997-2002 - Postdoctoral Fellow, Department of Immunology & Department of Gastroenterology, The Cleveland Clinic Foundation, USA.
Awards & Honours
Merlin Bumpus Best Investigator Award, USA, 2001.
International Collaboration/Consultancy
Prof. Miguel Camara, Centre for Biomolecular Sciences, University of Nottingham, Nottingham, U.K. (Biofilms).
Prof. Sanjoy K. Bhattacharya, Bascom Palmer Eye Institute, Florida, U.S.A (Lipidomics).
National Collaborations:
Prof. Rakesh Lodha, Department of Pediatrics, All India Institute of Medical Sciences, New Delhi (Hospital Associated Infections).
Dr. Venkat Panchagnula, National Chemical Laboratory, Pune (Laser Desorption Ionization Mass Spectrometry).

Best Peer Reviewed Publications (upto 5)
Recent Peer Reviewed Journals/Books (upto 3)
Patents (if any)
* Selective Detection and Analysis of Small Molecules. Ghosh D., Dharware D. and Panchagnula V. Jawaharlal Nehru University, New Delhi and Central Scientific and Industrial Research (CSIR), New Delhi. EP2676287A2 EU (granted). US (Pending).