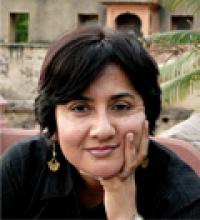 Centre/School/Special Centre:
School of Arts & Aesthetics
Email:
shikhajhingan@mail.jnu.ac.in , Shikha.jhingan@gmail.com
Qualifications:
PhD Cinema Studies, School of Arts and Aesthetics, JNU

MFA: Performance Studies – Film, University of Wisconsin-Milwaukee
Areas of Interest/Specialization:
Music, Sound Technologies and Cinema; Stardom and Fan Practices; Genres in Film Music; Discourses around the Sonic Performance of the Voice in Film and Television; Media Archeology; Intermediality. 
Experience:
Teaching at the School of Arts and Aesthetics since October 2015

Teaching at the Department of Journalism, Lady Shri Ram College, University of Delhi from 2006-2015

Research Project with FOCUS 2005-2006.

Worked as an independent Documentary Filmmaker from 1986 – 1988 and, from 1992 - 2005.

Research Project with Majlis 1998-1999.

Founder member of Mediastorm, India's first women's film collective which received the Chameli Devi Jain Award for outstanding women media professionals in 1992.

Documentaries include Health Matters, 2005; Born to Sing, 2001; Living Through Performance, 1997; The Power of the Image: A Television Series on Bombay Cinema and Prisoner of Gender (1998) which won the Silver Panda second prize at an International Documentary Festival in China (1991).  
Awards & Honours:
Awarded Travel Grant by Delhi University Research Council to attend Moving On: South Asian Screen Cultures in a Broader Frame at Westminster University, (2014).

Awarded Habeeb Kidwai Research Fellowship by the Media Resource Centre, AJ Kidwai Mass Communication Research Centre for a research project on Teenaged Girls and Global Television (2010).

Awarded FOKUS grant by International Association for Women in Radio and Television for a study on the History of the Female Voice in Hindi Film Songs (2006).

Awarded Artists Residency Fellowship to attend and participate in the Adelaide Arts Festival by Australian Cultural Residency to pursue a project on Digital Documentary Practice (2002).

Awarded Fellowship, Majlis (1999) 
Best Peer Reviewed Publications (upto 5):
Sonic Ruptures: Music Mobility and the Media in Media/Utopia: Publics, Politics and the Work of (Mass) Mediation, Arvind Rajagopal and Anupama Rao (Eds.), Routledge, 2016. 

Backpacking Sounds: Sneha Khanwalkar and the "New" Soundtrack of Bombay Cinema in Feminist Media Histroies, 1 (4), 2015, 71-88. 

Teenaged Girls and Global Television: Performing the New Hindi Film Song in Super Girls, Gangstas, Freeters & Xenomaniacs: Gender and Modernity in Global Youth Cultures by Susan Dewey and Karen J. Robinson (Ed.) Syracuse, Syracuse University Press. 2012, 125-144.

Lata Mangeshkar's Voice in the Age of Cassette Reproduction in Bioscope: South Asian Screen Studies, 4 (2), 2013, 97-114.

Re-embodying the 'Classical': The Bombay Film Song in the 1950s in Bioscope: South Asian Screen Studies, 2 (2), 2011, 157-179