WHY @ JNU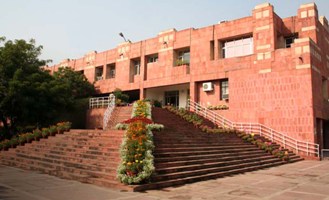 Jawaharlal Nehru University, established in 1969, is a vibrant campus. The university have an area of about 1000 acres and currently 7300 students are residing in 17 hostels and studying under around 550 reputed faculties. JNU is a university which believes in creating new heights in every field of education and in nurturing social awareness in society. JNU have 10 different schools including 4 special centres to provide quality education and social awareness. School of Language Literature and Cultural studies (SLL&Cs) is responsible to provide education not only of language but also the cultural and social aspects of other society/country. School of International studies (SIS) is responsible for providing an overview on world politics and their influence on world society, this school is very much engaged in providing members in advisory committee of national and international organisations. JNU is well known for research in sciences also, and always encouraging students to improvise and research in different sectors so we have different schools for environment, physics and etc. School of Physical Sciences (SPS), School of Life Sciences (SLS), Special centre for Microbiology, School of Environmental Sciences (SES), School of computer and systems sciences, School of Biotechnology (SBT), Centre for Molecular Medicine and Nanoscience.
Goal
The goal of Training & Placement Cell is to provide employment opportunities for students. Objectives: why student should register in placement cell
1. The primary objective of placement cell of JNU is to provide campus placements in best organizations of their fields, and government institutions for our UG, PG, M. Phil and PhD students.
2. It aims at imparting right training in students to enable them for employment and provide opportunity to do internships in government and other organizations.
3. The goal of Training & Placement Cell is to provide employment opportunities and skill students to meet the technical difficulties.
Activities
. Registration of students for internships / placements
. The cell conducts Counselling sessions / Career guidance for the registered students
. Enable different organizations to present their pre-placement talks and conduct tests and interviews on the College Campus.
. Engage different organizations to conduct workshops for the students for interview.
. The Placement Cell also conducts Basic English classes to help the students to develop communication skill.
. Different institutions will also extend their support by training the students in various skills, helping the cell with resource persons and conducting courses for students.